Castlemartin, Pembrokeshire To see how many features I once climbed have been battered away by wave and wind is a salutary lesson in human ambition
Meadowsweet still flowered along lanes through an obscenity of tank ranges; grasses riffled and glistened in the verges; far offshore, Lundy dipped in and out of view. Nowhere's better in stormy weather than south Pembrokeshire's Castlemartin peninsula. Here the elemental interplay of land and sea is slow-motion spectator sport of the utmost drama.
I was there when Storm Ophelia was at her raging height, to watch sculpting forces of weather at work on massively bedded, malleable limestone. In my decades as a rock climber, pioneering routes on this coast obsessed me. To look east from the Green Bridge of Wales and see how many of the features I had climbed have been battered away by wave and wind is a salutary lesson in human ambition.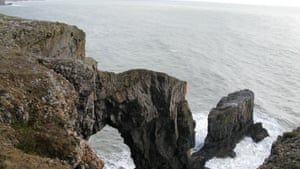 This coastline changes every year. Hundreds of tonnes fell away from the Green Bridge recently; more will surely go this winter, until only the stub of a stack remains. From the larger Elegug Stacks nearby, a huge buttress has collapsed; but the cairn on top, built on a wild weekend 47 years ago by the late Peter Biven and myself, is visible against the light, evoking memories of youth's lithe strength expending itself in struggling up a vile amalgam of fissile rock, guano and sea-cabbages to attain that summit.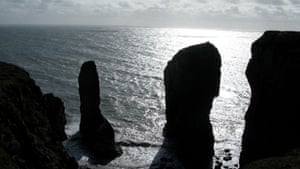 Rather than being depressed by the memory, my spirits are lifted by the buoyant grace of a fulmar that hangs on the wind at the cliff-edge, observing with benign eye. Sailors' tradition held these birds to be seamen's souls; I imagine it as the spirit of James Fisher. His 1952 New Naturalistmonograph on the fulmar is a classic of 20th-century nature writing.
Less stately and far noisier is a flock of choughs – small, red-legged crows whose squealing cries pierce even the gale's thud and bluster. Chough and fulmar are on my list of favourite birds: for the air-mastery they display; for their embodiment of the essence of all wild places. The rocks may crumble and fold; we grow old; but nature gives these immortal birds as consolation for transience. What joy they bring!
Sources: https://www.theguardian.com/environment/2017/nov/04/country-diary-castlemartin-storms-spectator-sport-utmost-drama